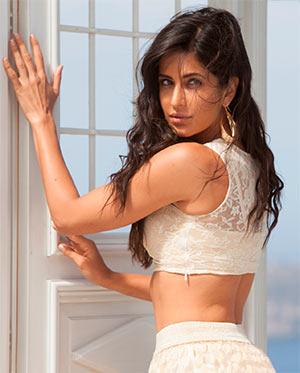 'Salman Khan told me once that he didn't receive any award nominations till Dabangg happened. Not that I am comparing myself to him -- he is an iconic person in the industry -- but I find it quite relevant to what I want to achieve,' Katrina Kaif tells Sonil Dedhia.
F
lushed with the success of
Bang Bang
,
Katrina Kaif
is in a happy space.
"Box office success does matter to me," the stunner confides. "As an actress, one craves for that acceptance. I am super fortunate that I have not seen the other side."
Katrina talks to Sonil Dedhia about the success of Bang Bang, her battles, and whom she loves bullying.
What do you think of Bang Bang's box office performance?
Everyone wants their film to be seen and accepted by audiences. It's great that people loveBang Bang.
We had promised that the film would be an exciting ride. The good numbers indicate that fans love the film.
It's so gratifying for the entire crew to be appreciated for all the hard work that went into creating the experience of this film.
People either love Bang Bang or hate it. Why do you think the movie has generated such an extreme response?
All of us live in a world of criticism. If I want, I can look at everything with criticism. I can criticise everyone I meet or keep criticising myself all the time.
My philosophy in life is live and let live. If you don't like my films, please don't watch them.
Is it true that a sequel is being planned?
I haven't been approached for the sequel so I am not aware of it.
But if they ask me, I will consider it.
Does the success of your past films influence your decision about future projects?
I don't calculate and choose scripts. At that moment of saying yes, I think that this is what I want to do.
After Ek Tha Tiger, I did Yash Chopra's Jab Tak Hain Jaan -- a completely different world for me.
After Dhoom 3 and Bang Bang, I knew I wanted to do something different and that's why I signed Anurag Basu's Jagga Jasoss.
After that, I am doing Abhishek Kapoor's Fitoor, which is an intense and passionate love story, completely different from love stories you have seen recently.
I am lucky to be able to work with directors I want to work with. Every film I do is different in its own way.
You have been very successful with your films, but you haven't been rewarded by any awards for your performances.
I don't miss awards. Yes, awards are great. I love them. I have lots of those viewer's choice awards.
If I get them, I will accept them with a smile. If not, I'm happy with the result.
Salman (Khan) told me once that he didn't receive any nomination till Dabangg happened. Not that I am comparing myself to him -- he is an iconic person in the industry -- but I find it quite relevant to what I want to achieve.
How do you look at competition?
I see every actor as competition.
Actually, competition isn't the right word. I don't compare myself with any other person because I am already aware of my strengths and weaknesses.
My battle is with myself. There's Deepika (Padukone), Priyanka (Chopra) and even the new girls, Shraddha (Kapoor), Alia (Bhatt), Parineeti (Chopra).
Right now, I am in a fortunate phase where I still get to do the work I want to
There are reports that you play a 22-year old girl and Ranbir Kapoor plays a 19-year-old guy in Jagaa Jasoos.
I've read that too. Ranbir's and my character in the film don't have any defined age. The only thing that I can tell you is that Ranbir is playing a sort of detective and not even in a traditional sense.
Director Anurag Basu has made some beautiful films in the past, and the best part is that you can't classify his work. He creates a world in his films which is very unique and unusual.
After working with so many superstars you have a young co-star, Aditya Roy Kapur in Fitoor.
Good, na, I can bully him (laughs).
I saw Aashiqui 2 and I think Aditya did a fabulous job in it. Also I don't think anyone particularly offers films with only a particular cast in mind.
In two of my last five films, I was approached before the hero was on board. When I did New York, Neil Nitin Mukesh was comparatively new.
In Mere Brother Ki Dulhan, Ali Zafar and Imran Khan were comparatively new.
So I don't look at whether I am going to star opposite a young or a relatively established co-star.
The film also stars Rekha. What do you feel about working with her?
I am really excited. Over the years, I have really enjoyed interacting with her whenever we have met.
She is amazingly energetic and very passionate about her work.
I find her a very fascinating person and I am looking forward to working with her.
Is it true that you are training your sister Isabelle and helping to launch her in Bollywood?
I am not training her for Bollywood. She recently did an English film in Canada called Dr Cabbie, which has done really well there.
She has formal acting training from Lee Strasberg in New York so I don't think she needs any training from me.
She is also an amazing dancer and is trained in ballet. Currently, she is busy with her career out there.
It will be great if she wants to come to Bollywood. I know people here and will surely help her meet people.